Have you ever asked yourself about how secure your data could be if you don't use a VPN? If you're on the lookout to find an answer to this common question, "how to hide my IP address without VPN", read on to learn how.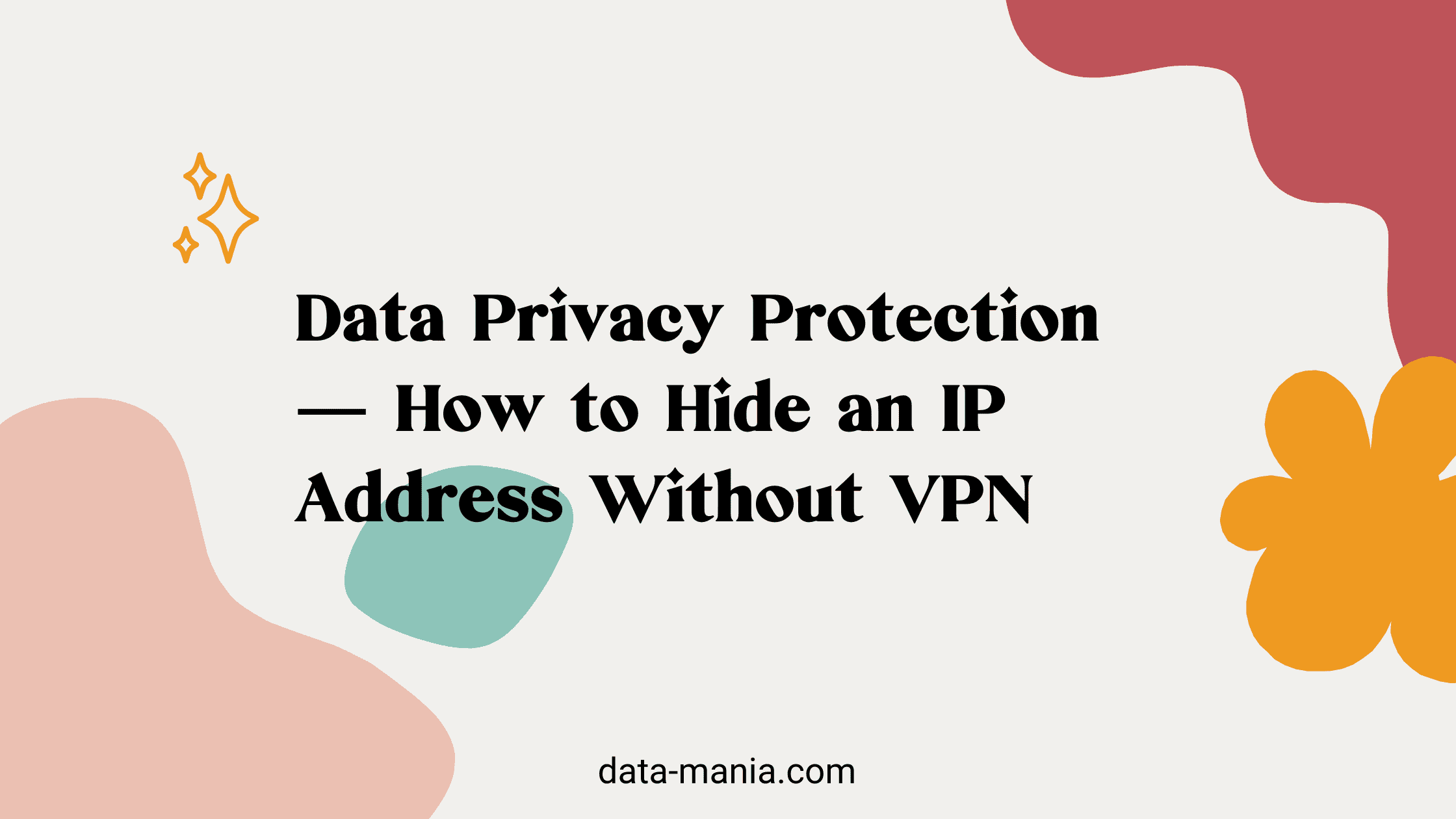 Many consumers and businesses are concerned about privacy as the world becomes more data-driven. Despite their abundance of data expertise, even most data professionals find themselves unsure about how to protect their own data privacy! The commercial use of personal information and consumer mistrust is steadily increasing, meaning privacy is all the more important for anyone using a digital device.
How private is a user's internet activity? What data is trackable? More consumers are asking these questions and choosing to leave a smaller trail on the internet.
Learn more about data privacy and how to hide an IP address without using a VPN.
IP Addresses Leave Digital Trails
Some internet users may not be aware that everything they do online, from a simple Google search to buying clothes, can be tracked. This lets companies know what users search for, predicting what products or services they prefer to place relevant ads on certain websites. It's also how sites keep users from accessing their content due to geographical restrictions.
All this is done by using an internet user's IP address. This is a user's online "calling card." It's a unique identifier that can tell an internet service provider (ISP), would-be hacker and other websites about the device's approximate location and additional information about someone's online activities.
Pros and Cons of VPNs
Some users might want to enhance their privacy and have peace of mind that companies are not harvesting their data for any reason. They often use virtual private networks (VPNs) to do that. However, it's still possible for people to hide their IP addresses without using a VPN.
Here are some of the pros and cons of using a VPN:
Pros
 

Ensures privacy and anonymity online

 

Unblocks restricted and censored content

 

Improves online security

 

Changes

a user's online location

so they can access local content

 

Protects people from ISP throttling and government surveillance

Cons
 

Underlying encryption technology can slow down the connection speed

 

Some governments ban the use of VPNs

 

Anti-VPN technology might cause them to fail

 

Rerouting traffic through different servers could cause the connection to drop

 

VPNs

typically cost money

, though they are relatively inexpensive

 

Free VPNs are not always reliable
Many people prefer using a VPN to protect their data and online identity. It's also become common for organizations, businesses and governments of all sizes to use VPNs to meet regulatory requirements and gain peace of mind. Still, there are some other ways they can do this without using one.
4 Ways: How to Hide my IP Address Without Using VPN
Many types of IT software help professionals and consumers manage data, many of which offer high-level security.
For example, businesses using data-wrangling software with advanced security and encoding can prevent scams and fraud, and migration solutions can replicate backups in the cloud. Digital tools can also help businesses or consumers hide their IP addresses.
Here are some ways internet users can hide their IP address without VPNs for enhanced data protection and online privacy.
1. Use a Proxy
A proxy is similar to a VPN because it acts as a middleman between the internet and connected device. A VPN is a type of proxy, but standard versions are usually free. However, they lack the same security features and encryption that VPNs offer.
Proxies can still hide an IP address effectively. It's suggested that users try one if they need coverage on a specific website or app for one-time use.
2. Try Tor
Tor, short for The Onion Router, is free, open-source software that can hide someone's IP address and prevents people from watching an internet connection from knowing what websites a user visits.
Internet traffic on Tor is encrypted and websites can only see the exit node, the IP address of the last server in the sequence. The Tor Browser works like any other, such as Chrome or Firefox.
3. Switch Networks
When a user changes their internet network, their IP address also changes. They can either connect to a public or private network or use their mobile phone's data connection to go online.
However, it's important to mention that public networks are hunting grounds for hackers because they can exploit a user's lack of encryption and authentication. People can opt to use networks that require a password for better security.
4. Ask the ISP to Change IP Address
Users can also contact their ISP and ask for a different IP address. They should contact their ISP and have their current account information and address on hand before speaking with a representative.
The ISP will likely provide users with a dynamic IP address, which can change in the future. People might be able to ask their ISP for a static IP address, which remains unchanged. However, obtaining one may require an application or processing fee, depending on the provider.
Protecting Data and Enhancing Privacy Online
Internet users cannot hide their IPs from absolutely everyone. Still, they can use some of the methods above to mask their location or hide their device's private address.
Data privacy is more important now than ever, and users want to protect themselves and their information while using the internet. They should consider using a VPN or one of the methods above to remain safe online.
A Guest Post By…
This blog post was generously contributed to Data-Mania by Shannon Flynn. Shannon Flynn is a freelance blogger who covers business, cybersecurity and IoT topics.
You can follow Shannon on Muck Rack or Medium to read more of her articles.
If you'd like to contribute to the Data-Mania blog community yourself, please drop us a line at communication@data-mania.com.