The data analysis world has evolved drastically. As business, financial, and data professionals, we've relied heavily on traditional spreadsheets. But with the ever-growing need for real-time, agile decision-making and comprehensive analysis, it's clear we've been asking spreadsheets to perform tasks they clearly weren't designed to do. That's where Equals steps in to redefine the future of spreadsheets.
In case you missed my earlier post, Equals is a next-generation tool that's about to radically disrupt EVERYTHING you know about data analysis and reporting. 
Spreadsheets have evolved, and you're about to see just how much.
The data landscape is constantly changing, but the tools many professionals use? Not so much. 
"For analysts and data professionals of all kinds, traditional spreadsheets are growing more restrictive and clunky on a daily basis. They simply can't keep up with our growing data needs." 
For analysts and data professionals of all kinds, traditional spreadsheets are growing more restrictive and clunky on a daily basis. They simply can't keep up with our growing data needs.
Over the last few weeks though, I've gotten the chance to get up-front and center with Equals myself – and I've got to say! Equals has absolutely revolutionized the future of spreadsheets.
One of my favorite things about Equals is its built-in functionality that allows users to push analysis directly to stakeholders, in whichever format needed and on a manual or automated basis! 
Instead of pulling information manually, and building reports on a piecemeal basis, Equals enables you to directly publish critical insights to platforms like Slack, Email, or even directly into presentation slides. 
This of course increases the speed of decision-making, but it also ensures that key stakeholders have a real-time pulse on business happenings!
The Equals Dashboard launch
As you'll recall from my previous post, Equals recently launched their Dashboards feature on Product Hunt and it seems like the ENTIRE data community really came alive to rally behind them in that launch.
So much so that, Equals won #1 on Product Hunt that day!!
Massive thanks to everyone who showed up and supported this incredible startup. I really loved all of your insightful comments! 
Here were some of my absolute favorites:
Follow Josh Hubball on LinkedIn.

Follow Khalid Khan on LinkedIn.

Follow Bruno Haag on LinkedIn.
As you can see, Equals is already making waves in the industry. 
So many users are reporting improved efficiency, reduced overhead costs, and faster decision-making processes. 
Better yet, the tool is bridging the gap between data scientists and business professionals, which in turn fosters a more inclusive data-driven culture.
This is just a taste of what's in store for the future of spreadsheets
As businesses increasingly recognize the limitations of traditional spreadsheets, tools like Equals are set to dominate the industry. 
With the continuous addition of new features and integrations, Equals is setting new standards for all. Here are some of the things I love most about Equals…
Equals' unparalleled enhanced functionalities & user experience
Equals has tapped into the very essence of what modern data professionals, business analysts, and financial analysts crave. 
Its features are truly unparalleled. Here's what I like most:
Directly connected data: Equals isn't just any spreadsheet tool. It's the future of spreadsheets.

It's a data powerhouse, pulling real-time data from your company's databases and connecting it directly to your sheets. No more manual data entries or importing CSVs. Data is live, updated, and always ready for analysis.
Comprehensive data analysis: Say goodbye to third-party tools or software for data visualization or analysis. With Equals, everything is available and ready to go in one place. Advanced query functions, complex data visualizations, and in-depth reporting tools are all built in.
Seamless integrations: Equals understands that modern businesses use a plethora of tools. That's why it seamlessly integrates with communication tools like Slack, Email, and Google Slides, ensuring that you can push your analysis to stakeholders, where it matters most.
Take a look at just some of its advanced functionality below. 🤯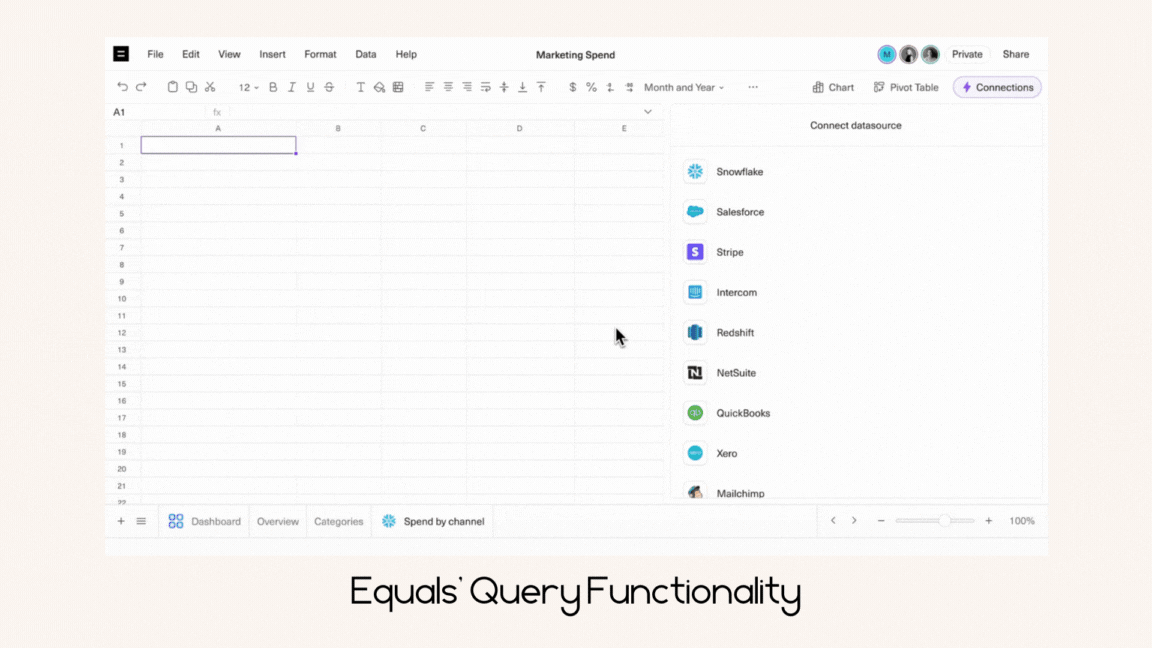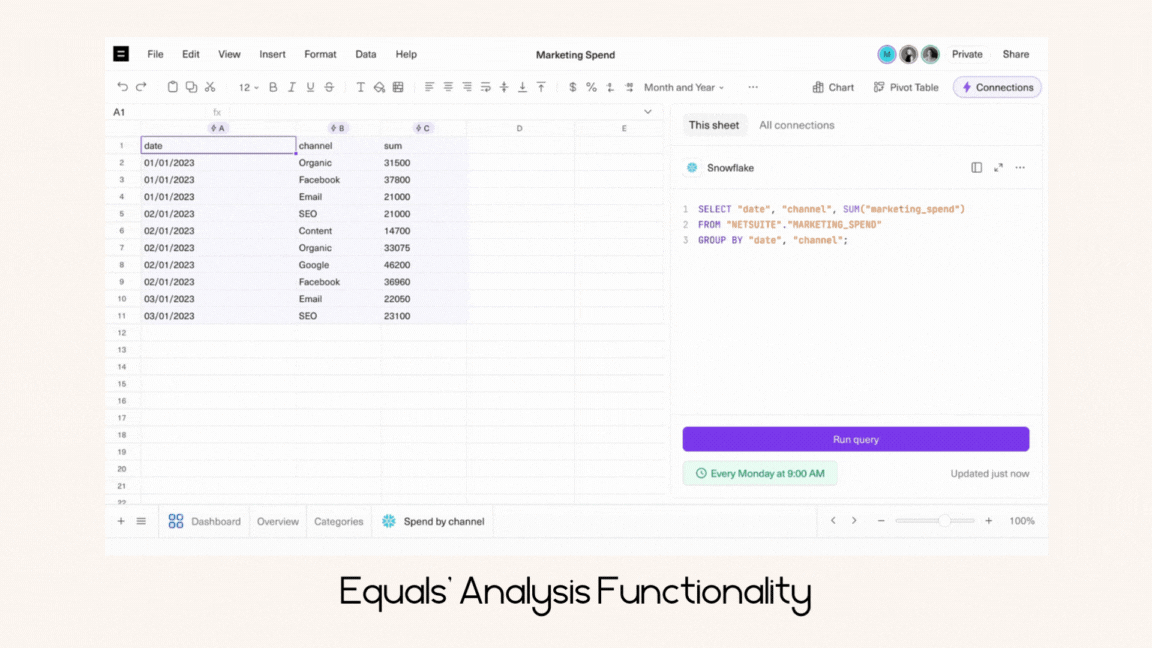 Equals' was clearly built for collaboration and flexibility
Collaboration is at the heart of Equals. Whether it's sharing real-time insights, working on a shared dashboard, or even pushing data to various platforms, Equals ensures that collaboration is intuitive and straightforward.
Intrigued? The best part is yet to come… 
Equals is so confident in the value they bring that they're offering a free 14-day trial. 
Go ahead and experience firsthand how Equals is changing the future of spreadsheets. 
Don't let your business or your team lag behind. Be part of the future, be part of Equals.
Click here to start your free 14-day trial at Equals.com
With functionalities that allow for real-time data updating, comprehensive analysis, seamless integrations, and the unparalleled ability to push data directly to stakeholders, Equals stands out as the future of spreadsheets.
Gone are the days when spreadsheets were just static cells and numbers. In this dynamic business landscape, tools like Equals are not just a luxury—they're a necessity. Join the ranks of data professionals who've embraced the future and never looked back.
Ready to take the plunge? 
Dive into the world of Equals and experience the future of spreadsheets.
Start Your Free 14-Day Trial Now!
Pro-tip: If you like this post on Equals and the future of spreadsheets, then you'll also probably love to learn more about Equals' Dashboards here, and about its conversion tracking capabilities here.
Disclaimer: This post may include sponsored content or affiliate links and I may possibly earn a small commission if you purchase something after clicking the link. Thank you for supporting small business ♥️.