If you're a new data entrepreneur trying to start or scale your business, you're most likely strapped for time. Whether you're trying to build out your side hustle while working your corporate job, or you're freelancing and are so busy with client data work you feel you have no time to work ON your business, the solution lies in becoming an efficient data services provider and maximizing the time you DO have (however limited it may be!).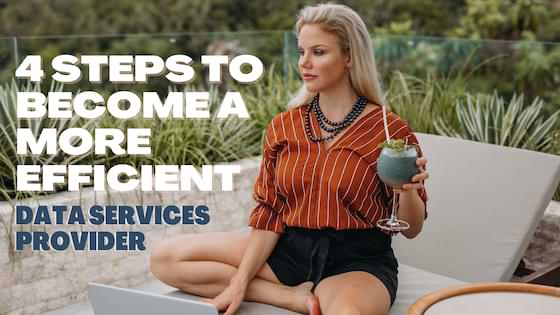 I've now scaled Data-Mania into a full-scale training and advising company that supports data professionals in becoming better data leaders. We've trained over 1 million data professionals and counting. But I too started off as a one-woman show selling data services. I used these exact tips myself to become an efficient data services provider so I could scale my business, reach more people, and create a bigger impact. I still use these tips to this day to help make my data thought leadership services more efficient for both myself and my clients.
Read on to learn about what it takes to boost your productivity and become an efficient data services provider so you can earn MORE money while putting in FEWER hours. 
Step 1:
Become an efficient data services provider by using proven business strategies 
In the case of becoming a successful, efficient data services provider, the advice to "take the road less traveled" does not apply. There is absolutely no need for you to waste your time trying to DIY your own business strategy or spend hours Googling and reading books on how to scale your business. 
Well, perhaps that's what an inefficient data services provider would do. 
But that's not you, is it?
????
Because I'm specifically telling you how you can maximize your time as you start and scale your data business, I want you to listen to this first step carefully.
Sure, you can spend 5-10 years learning by trial and error what goes into building a successful data business. OR, you can take the fast-track route by getting the exact steps you need to take to scale, so you can spend MORE time implementing, and actually, you know, building the business (rather than wasting hours trying to figure out what works!).
This is the route of an efficient data services provider. Everything that you want to learn how to do has been successfully done before by somebody else. Efficient entrepreneurs save time by studying proven strategies rather than wasting their time trying to chart their own path.
Want to save time and get ahead by accessing exclusive resources for your freelance data business? 
Download the "Ultimate Toolkit for Data Entrepreneurs" – Direct, actionable recommendations from Lillian on the exact tools and processes you need to set your data business up for long-term success.
Step 2:
Clarify the exact offers which you plan to sell through your business
Once you've taken it upon yourself to get access to proven, reliable business strategies, the next thing you'll want to do is double down on your offers.
This is the foundation of your business, and you can't move on to expanding and scaling until you take care of the basics. 
Take the time to get clarity on your offers. Survey your offers and figure out what is the most appropriate offer, and what price point makes the most sense for said offer.
You'll also want to get clear on your processes. If you don't have clear offers that follow a standardized process, it's going to be very difficult to 1) make good money, and 2) begin scaling your business. 
Rather than offering a million different things or customizing each detail of your services for each client, try to focus on a few core offers that have repeatable processes. Offering a ton of services without clear objectives, deliverables and processes can quickly turn into an operational headache, eating up a bunch of your precious time and energy needed to build your data business.
Knowing your offers inside-out is also imperative for your marketing plan. Ask yourself the questions like, "Who is it for? What are the key benefits? What is the transformation?". You should be able to recite the answers to these questions in your sleep. 
When you only have a few key offers that you know through and through, marketing them and creating content around them becomes a whole lot easier. You won't be spreading yourself too thin and you won't be confusing your audience by throwing a new offer at them every week.
Remember:
confused people don't buy. Clarity is king! Get clear on your offers, your price-points, your objectives, and your processes.
Want more resources on building a successful data business? Download the "Ultimate Toolkit for Data Entrepreneurs" – Direct, actionable recommendations from Lillian on the exact tools and processes you need to set your data business up for long-term success.
Step 3:
Begin creating SOPs and documenting business processes
Once you've gotten clear on exactly what you're selling and how you serve your clients, it's time to create and document standardized operating procedures (or SOPs for short).
A Standard Operating Procedure is a document or video that provides clear instructions for how to do a certain task. The whole point of SOPs is getting the knowledge of how to run your business out of your head and onto paper (or I should say a Google doc!).
You can record your SOPs in Google Docs, in your project management system (like Asana or Trello), or using a screen recorder such as Loom. 
SOPs are the foundation you need to start creating and managing your team like a true Data CEO! When you have organized, repeatable processes that are clearly documented, bringing on team members to help outsource part of your workload will feel like a breeze.
Step 4:
Start building your team and delegating to freelancers + contractors
The fourth and final step to becoming an efficient data services provider is to start building your team!
If you're still side hustling and working 9-5 at your corporate job, you may be wondering if now is the correct time to start outsourcing your work.
While many people traditionally think they need to be full-time in their business before they start hiring, dipping your toes into outsourcing while you have the security of your full-time job is an ideal situation.
Why, you ask?
Because you have the safety-net of your employer and you can re-invest your corporate salary into growing your business.
This is exactly what my former client Adriana Martinez did.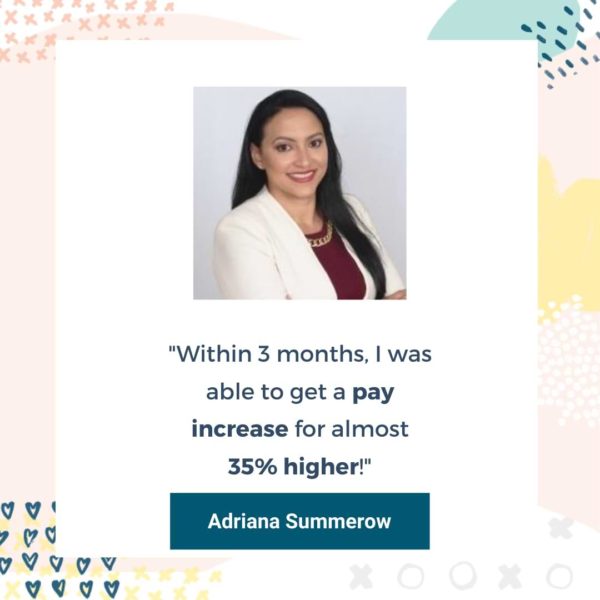 With the help of my coaching, she was able to secure a 30% raise at her corporate job. Because of this, she made more resources to invest in growing her business. While she dreamed of the freedom entrepreneurship would bring, she knew she did not want to be responsible for implementing all of the work herself (especially with a small child at home!). She decided to hire her team while still at her corporate job so she could have a larger outsourcing budget while she focused on her role as a successful data CEO.
Many of my clients were in similar situations and found that hiring freelancers to do the work while they worked on the higher-level CEO tasks I taught in my coaching curriculum was the best option for them. Because many of them were making six-figures in their day job, they were able to invest in building out their team instead of spending all their time at both their corporate job and side hustling on the nights and weekends.
This strategy means that once they quit their job, they have a business built and ready to go that works like a well-oiled machine.
They get all the freedom and perks that come with being a business owner, but they don't have to go through the split time where they're building a side hustle, trying to do everything themselves while also working a full-time job.
I hope these tips have shown you that it IS possible to become an efficient data services provider and scale your business, no matter what else you have going on in your life. Whether you're juggling the demands of family, a corporate job, or even completing your education on the side, you can learn how to maximize your time and create a profitable business without working yourself into oblivion!
If you're looking for MORE resources on how to start your own successful data business, download the "Ultimate Toolkit for Data Entrepreneurs". You'll get direct, actionable recommendations from Lillian on the exact tools and processes you need to set your data business up for long-term success.