Wondering what hiring mistakes to avoid in your startup business? If you're a newer data freelancer or business owner and you're thinking about hiring some help to manage the work – consider this a heads up – there are some SUPER costly mistakes that it's so easy to make. Learn what those mistakes are in this article – as well as what they can end up costing you.
YouTube URL:​ https://youtu.be/bM07iwwgo1U
If you prefer to read instead of watch then, read on…
In case you're new to our community, my name is Lillian Pierson and I support data professionals to become world-class data leaders and entrepreneurs.
Why am I talking about the hiring mistakes you need to avoid now?  Well, for starters – I'm hiring. I've been way too busy with the rewrite of the 3rd edition of my book Data Science for Dummies and more data projects coming down the pipeline…So, it's gotten to the point that I can't remain the only data pro working inside my biz.
For now – I'm going to teach you a thing or two about hiring mistakes to avoid in your data business from the collection of the major lessons I've learned in the last 8 years of hiring in my own business…
Backstory Testimonial
If you're building your data business the right way, then you're gonna see fast client growth – growth like my student here, Jordan Goldmeier, who started our program in January and used it to land $50k contracts in the last 6 months – 6 of which were at $500/hour. Now, he's looking to make another $100k this year from the methods he is still learning inside DCC, so – in order for this to happen, he's going to need to hire some help. 
So, in this article, I'm going to pretend that this is for him and share what not to do when hiring people for your business. I will use just a few of my hiring missteps to illustrate why I suggest NOT doing these things…
Mistake #1: Do NOT Hire Based On Half-Baked Project Plans
Half baked job descriptions scare off good applicants and invite people who don't know what they're doing. Don't throw a half baked project idea on Upwork and then try to hire someone to finish the plan and implement it for you, because that's really unrealistic. 
That might work if you're paying an experienced consultant for $300/hour, then you can probably find someone who can do strategy-level project planning and then implement it for you. But, if you are hiring someone for $20/hour, don't expect that the person can deliver a good technical strategy and implement it, because people who can do that type of work are not going to sell their services for $20/hour, even if they are in the Philippines.
How do I know? 
Because I made that mistake. 
What it cost me:
Created a CRM that I never used because the tech was junk so that's wasted money

Dirtied up my data which cost me time to fix

Paid $1.5k for someone to copy/paste onto web page which is a rip off

Spent $5k on service charges

Spent $1k worth of my own time cleaning up after 
The total Cost of this mistake for me is $6k.
This is a great time to hear from you – I would love it if you would tell me in the comments, what sorts of mistakes have you made when hiring people in the past?
Mistake #2 Do NOT Hire For < $8 / Hour

You can hire people for $4/hr or even a lot less in Upwork, but the thing is – time is money. You'll spend time in hiring and onboarding them – teaching them your processes and getting them ready to do the job. If you hire for <$8/hour you can expect that you'll be spending your time: 
Checking their work 

Trying to get them to fix their work
You can also expect that you might incur reputational risk which can be very costly to your business. This sort of thing happens if you hire someone who's interacting with your clients and they don't know how to speak in your brand language or maybe they're not native English speakers, so it comes across as low-quality, which reflects poorly on your business.
In terms of the mistake I made in this department, back in 2017, I hired a 20 year old CS student in Pakistan and she actually did okay, but I couldn't keep working with her, because I couldn't scale my business and depend on her at the same time. She just wasn't reliable enough and I spent so much time doing these things:
Constantly checking her work

Asking her to fix things

Being the PM

Intervening in every step of the process
What I have found is, if you wanna hire someone who is a "one and done" –  who you can hand things over to and expect them to get done on time, you need to at least pay $8/hour.
Mistake #3 Do NOT hire >5 People At Once
The thing about hiring is when you hire someone, you have to spend a lot of time in:
Hiring

Onboarding

Quality Control

Revisions Request
If you make good hiring decisions, hopefully it won't take too much time to do those latter points, unless you have a project manager who is going to manage that individual after you hire them. You don't want to hire more than 1 or 2 people at a time, because you'll be so busy managing and overseeing these people that you won't be able to get your own work done.
I've made this mistake a few times – every time I get offered a big contract, I bite off more than I can chew in terms of work. Then I hire a bunch of people at one time to help me deliver the projects. Inevitably, it always ended up a huge mess and way more frustration than I needed to deal with. 
So, unless you have a project manager and a process in place for onboarding people where it doesn't require your time, don't try to bring in more than 1 person. But the good news is, if you make quality hires, then you can work with your team members long-term and you'll have resources available to you when you need them (on-call basis), or you can also have full-time or part-time people in your business. I actually do all three to support Data-Mania today. 
That's really what it should look like – you should have a network of people helping you support your business who you have long-term relationships with and who know your standards so you can work together for years. 
In the end, you'll have to think of hiring like you're starting a new relationship and not think of it like a one-night stand.
If you are digging all these real-talk on hiring mistakes to avoid in your business, then I know you're gonna love my video on How To Create A Data Product That Generates At Least $450000 Per Month. Check it out here.
Mistake #4: Just Say NO to Randos
Don't just hire random people that put together a good application and charge a decent rate.
Why?
Good application could mean that they have good marketing skills
Decent rate could mean that they're just smart enough to know what their skills should be worth in Western economies
In fact, I find that the best workers are the ones who undercharge and the least reliable workers are the ones who overcharge. It's really a nuance thing, so you need to spend time getting to know the person and looking at what they've done in the past. And just because they write an amazing application that tells you everything you want, don't expect that they know what they're talking about and that they're worth the fees they're charging.
I did this when I hired an admin assistant for $20/hour because his application was good and he sounded like he knew what he was talking about, so I gave him a shot. He was sort of a "self-starter" which is generally pretty good, but he ended up making important business decisions on my behalf without my permission. For example: 
He set up Intercom for my business which is not at all what I needed – it's good for other business models like SaaS or where people need to submit tickets. I had to source the correct technology we needed, which was HelpScout.

He set up Google For Business without asking me and he ended up setting up the wrong name.

He had no mind for the budget. He came from a much larger company that sold software and just assumed that the requirements were the same.

I got a trillion notifications.

Then, in the end, he ghosted me.
In terms of what it cost me: I paid him $1.5k in fees and $10k of my own time and lots of stress and headaches.
4 BIG HIRING RISKS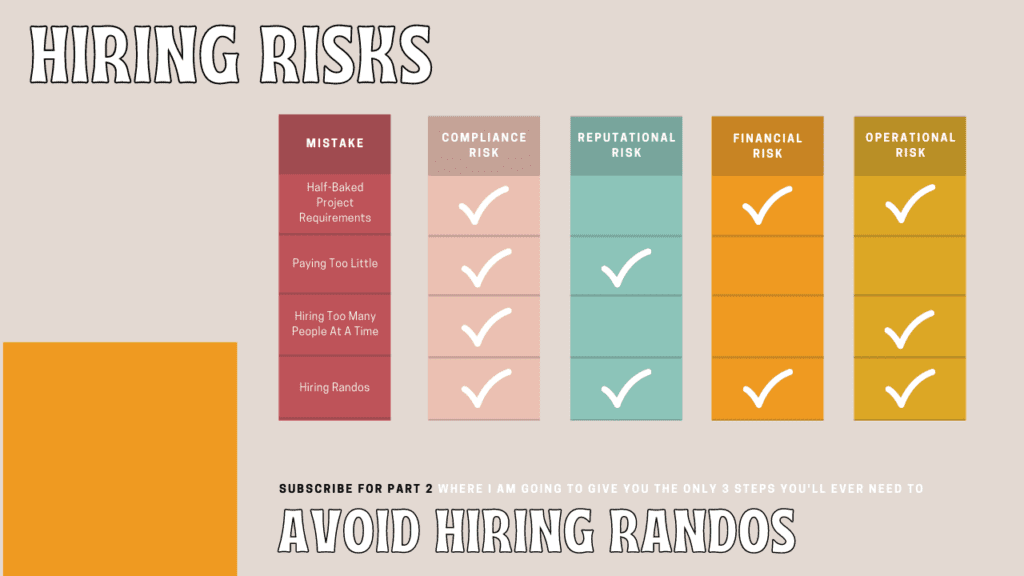 I'm going to break down most of the risks associated with making bad hires. It kind of all boils down to financial risks, but there are different ways that you can incur financial risks within your business so it's worth it to break it down and look at what those are, so you can avoid them. 
COMPLIANCE RISK:
Copyright infringement

Licensing issues

Data privacy risk 

Steal your data
REPUTATIONAL RISK:
Potential improper treatment w/ customer

Misalignment with brand language

Steal your email list and go nuts spamming your customers saying bad things about you

Steal your branded social media account
FINANCIAL RISK (where Time = Money):
Hiring and onboarding

Trying to get them to fix their work

Fixing their mistakes (if possible)

Reverting their changes – big one for tech workers
OPERATIONAL RISK
Wasted money on unusable tech

Using the wrong tech – switching is cluster (Intercom >> HelpScout)

Irrevocable "errors"
What it really comes down to is, if you hire the wrong people or too many people, you're gonna end up thinking to yourself, "It would have taken me less time and less money just to do it myself and I would've been a lot less frustrated…" and I don't want that for you.
If you like this article on hiring mistakes to avoid in your AI startup, then you're gonna want to watch part 2 where I shared the 3 Hiring Steps You Ever Need in your data business. Check it out here.
You may also love it inside our Data Leader and Entrepreneur Community on Facebook. It's chalked full of some of the internet's most up-and-coming data leaders and entrepreneurs who've come together to inspire and uplift one another. I left a sample job description in there that you can use to pattern after in making your next hire.
If you're digging this real talk on hiring mistakes you need to avoid, then you probably want to avoid technology mistakes as well. That's why I want to invite you to download our FREE Data Entrepreneur's Toolkit. 
It's an ensemble of all of the very best, most efficient tools in the market I've discovered after 9 years of research and development. A side note on this, many of them are free, or at least free to get started, and they have such powerful results in terms of growing your business. These are actually the tools we use in my own business to hit the multiple 6-figure annual revenue mark.
Hey, and if you liked this post on hiring mistakes to avoid in your data biz, I'd really appreciate it if you'd share the love with your peers by sharing it on your favorite social network by clicking on one of the share buttons below! 
NOTE: This description contains affiliate links that allow you to find the items mentioned in this article and support the channel at no cost to you. While this blog may earn minimal sums when the reader uses the links, the reader is in NO WAY obligated to use these links. Thank you for your support!