Data-Driven Software Development in 2020 was one-of-a-kind with lots of digital enhancements and movements in the uncertain world of COVID-19. Though it has affected every one of us in many ways, digital technology adoption has taken a quantum leap-not only on the medical front but unceasing innovation in the software development industry as well. With all the breakthroughs happening across all industries, 2021 has sped up digital transformation. More likely, this trend will be more promising in the forthcoming time.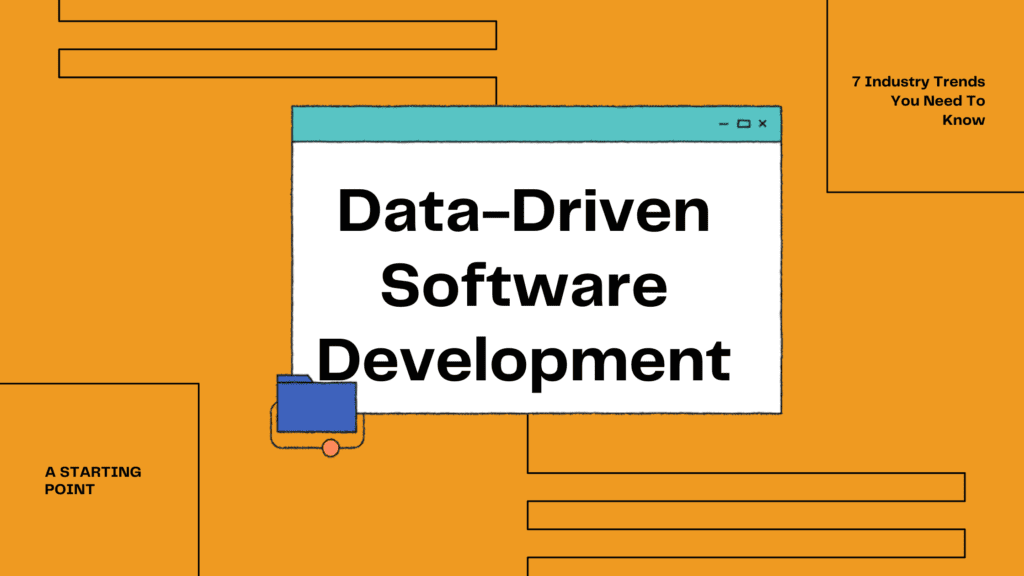 Data-Driven Software Development Trends
Data-Driven Software development trends in the IT industry compel businesses to continuously transform towards new challenges. It aims to meet the evolving customer expectations and the growing reliance on data to deliver on these customer experiences. Software buoyed with the latest technologies brings improvement into data-driven decision making. This software becomes data-driven itself, offering solutions that have become difficult to solve using old procedural programming. Data-driven software offers greater scalability, flexibility, better data management, and automated operations.
A Gartner report stated that worldwide IT spending is expected to reach $3.8 trillion in 2021.
This shows enterprises are continuing to increase their software investments, whether it is the integration of cloud, Artificial Intelligence, Blockchain, or any other technology to fulfill against this new business environment and create competitive advantages for their businesses.
Now, where is the investment going?
Top 7 Data-Driven Software Development Trends
Here's the compiled list of top seven data-driven software development trends that will take businesses to the next level even in these unprecedented times.
An Uptick in Big Data Analytics
Businesses across different industry segments are tapping into Big Data to capture insights and understand trends to move forward. With technologies like Hadoop and Apache Spark, business analysis and streaming can be enhanced. Netflix has built its credibility using big data analytics to understand exactly what its customers want.
One use case is the usage of public data across digital platforms. The power of big data analytics is used in preventing unauthorized use of personal data. In 2021, the trend is moving forward with Data-as-a-service (DaaS), which is a data management strategy that uses the cloud to enable businesses access the infrastructure when they need it, eliminating redundancy.
Learn more about data privacy and security risks on this video by Lillian Pierson about the Hidden Danger in Greater Data Privacy.
The Dominance of Native Apps 
Given the increasing use of mobile devices, mobile apps play an indispensable role in business success. In 2021, software developers spend time developing more native apps that offer seamless customer experiences. These native apps make use of machine learning and other data technology to give the best intuitive experience to every user. As native apps support specific machines (typically iOS or Android), it allows software developers to explore and use the full potential of the device. This translates to better security, flawless usability, and a tailored UI.
Might Be Helpful: Top 5 Technologies That Will Reshape Web Development
Increasing Adoption of Cloud Services
In recent years, cloud services are in high demand with evolving need for business availability, scalability, data recovery, and ease of accessibility. 2021 is no different as more companies will be inclined towards SaaS, IaaS, and PaaS solutions to build apps to manage teams and streamline operations as these services can be easily adopted and implemented. The multi-cloud initiative will gain more momentum this year. The Central Intelligence Agency (CIA) has recently shifted its Commercial Cloud Enterprise (C2E) to multiple vendors instead of one single vendor. The main reason for multi-cloud adoption is to break vendor lock-in. This helps businesses minimize downtime and gain a mixed set of tools to prevent issues that might come with a single service provider.
The growing use of Container and Micro-Services
Containerization and micro-service architecture have become hot trends in software development. They ensure greater scalability, security, and high availability that most apps require nowadays. Kubernetes is widely popular amongst software developers as the best container orchestration and management technology. It allows developers to create and deploy applications faster by bundling up the application code together with all the dependencies, making them platform-independent.
Microservices is an approach to software development wherein large software is broken into smaller pieces of reusable codes. Each small module supports a particular business use case and communicates with other modules seamlessly. For instance, CSCS, a popular construction skills certification scheme company in the UK, put micro-service based architecture in place to run a validation check on the workers' cards. The web application is linked with different awarding bodies using FTP/XML files for card authentication.
The combination of micro-service and containers is used to decouple software into smaller pieces and containers. This is to extend this decoupling; thereby making software independent of the underlying hardware platforms.
Accelerated Adoption of Blockchain Technology
Known widely as a digital ledger technology, blockchain has become a major trend. Blockchain has its sprawling applications in banking, finance, media, publishing, and healthcare. Integrating blockchain in software development processes will certainly add a layer of advanced security features during any business transaction.
From the studies, the blockchain market is expected to reach the $20 billion mark by 2024.
With the decentralized nature of this technology, businesses can store any type of record in a public database; thereby, ensuring security from hackers. Today, more companies are embracing blockchain as a service (BaaS). This allows businesses to build or host their blockchain application without worrying about setting up the entire infrastructure. Blockchain service providers set up the technology infrastructure and handle maintenance jobs.
Blockchain technology is growing at a fast pace. Being a popular option for developers to build decentralized open-source applications, this would allow them to bring transparency and safety encryption features. And this technology would eliminate all security concerns for online transactions.
Rise in 5G and New Technologies (AI, ML, AR, VR)
The power of 5G technology is going to be the major tech shift in 2021 with faster downloading power that is up to100 times faster than 4G. With quality upgraded features like faster remote networking, lower inertness rates, and easier bandwidth accessibility, 5G gets fine along with high data demand offerings. Such offerings include 4k video streaming, enlarged reality like virtual and augmented reality that are opening a whole new dimension for business growth.
Today, software developers are embracing 5G technologies to develop powerful apps with new functionalities in every space of business. The technology will be an enormous improvement in security which will keep away all the impediments present in the 4G.
Expansion of the Internet of Things 
Smart devices and applications built using Internet of Things (IoT) have become a popular trend in the development of industrial applications, ranging from manufacturing, food processing to energy and health & medical divisions. These devices allow businesses to make decisions that are data-driven. By connecting everything together through sensors and actuators, IoT is making our world smarter. And businesses living in the challenging 2021 would look forward to spending more on IoT-enabled products to thrive in the future. Extending the journey beyond smart devices, companies are fast moving towards apps. Their aim is to become more efficient and provide advanced features with the integration of IoT.
In the current COVID situation, the healthcare sector is on the verge of change by offering better services in the form of telemedicine, connected imaging, in-patient monitoring, wearables, etc.
Wrapping Up on Data-Driven Software Development Trends
Digital products and applications have become an inseparable part of any business. With more and more data produced each day, companies are turning to data-driven software. These remarks significant improvements in business operations and functionalities.
Software developers are always keeping up with the latest technology and harnessing benefits from the updates. This means 2021 is setting promises for unparalleled opportunities. Whether a business is developing an enterprise product or rolling up a new idea in the form of a mobile application, these trends would certainly help them get a competitive edge.
** This article contains an affiliate link. This means we may get a small commission if you purchase the book after clicking through the link. Thank you for supporting small businesses ❤️.
A Guest Post By…
Paul Miser is the Chief Strategy Officer of Icreon, a digital solutions agency and Acceleration Studio.
He is also the author of Digital Transformation: The Infinite Loop – Building Experience Brands for the Journey Economy.
If you'd like to contribute to the Data-Mania blog community yourself, please drop us a line at communication@data-mania.com.