If you're a new or aspiring data entrepreneur, you may have thought about selling data courses online in order to boost your income and create a new revenue stream. Trust me when I say this…there is a RIGHT and a WRONG way to go about this.
If you embark on your course creation journey without the proper steps and strategy, your so-called "good idea" could quickly turn into a disastrous revenue hit for your business. In today's post, I'm going to show you exactly what you need to do to avoid bombing out big time with your efforts to sell online courses and books! So let's get started, shall we? ????
Oops but before that… Quick heads-up! We've enhanced and expanded this blog post in our more recent article on 10+ Tech Startup Ideas: Products, Services & Tech Business Models For Early-Stage Startup Founders! We recommend you read the updated version instead! 😉
Anyway, going back… Part of the reason I'm passionate about sharing this information is that I myself have experience launching courses, books, and digital products – and while some of those products were uber-successful (and continue to bring in recurring revenue for my business to this day!), others were a total flop.
A little more on why I'm qualified to teach on selling data courses online
To date, I've written five books. The first book I wrote was a self-published travel book in 2012. It basically failed due to lack of market research before product creation! The other four books were published by Wiley and are on the topics of data science and big data. And so far, they've been bought and read by over 250,000 readers across the world.
In terms of courses, I launched my first course back in 2014 on R. I created it myself without much of a real strategy behind it. I didn't take any program or get coaching on how to properly create and launch a successful course. In the end, I wasn't too proud of it. It didn't make much money, and I ended up taking it down within six months.
I now have five courses with LinkedIn Learning all on data science, which I earn $3,000 a month in residual income from, and we've scaled to 1 million learners. I've also pre-sold a program for $90,000 in less than eight months. 
So as you can see, I have a fair bit of experience selling digital products the right way – and the wrong way too! Let me help you skip the trial and error so you can get straight to being successful selling data courses online. Sound good?!
Step 1: Decide who it's for and the transformation it provides.
The #1 mistake I see so many people make who want to get into course creation is that they start with what they know first. They think, "what am I knowledgeable about that I could sell a course on?"
While it may be natural and intuitive to think this way, this is actually the complete WRONG way to go about creating and selling data courses online.
The worst thing you can do is spend six months creating this long course, and then only AFTER figure out who wants to buy it and how you're going to sell it and at what price points.
Instead, your very first step should be thinking about WHO is going to buy your course. Another is what sort of transformation it provides.
If you want to sell a high-ticket course, you have to go BEYOND a skill and task-based course. Yes, simply teaching someone a coding language (without any REAL emphasis on how learning this skill will change their life) might work for a cheap $10 Udemy course, it is NOT enough to sell a pricier program.
Go further than "I will teach you about Machine learning" or "I will help you master Python". How will this course really benefit them and create change in the participant's life?
You absolutely MUST bake a full transformation into your course and marketing message – otherwise, people might as well go pay $10 over to Udemy HERE (who happens to be selling data courses online for almost a decade – and pretty much killing it the entire time.).
Looking for more advice on what it takes to start a successful freelance data business! I've got you ????  Download the Ultimate Toolkit for Data Entrepreneurs and learn the exact processes I use in my business everyday that have helped me scale to the multi-6-figure range ????



Step 2: Warm your audience up.
The second step to being successful selling data courses online is to start creating content around your course topic. Also, becoming a thought leader in said topic BEFORE the course launches. 
If you don't begin showing up as an expert in your chosen niche within data, and are simply talking about a whole bunch of random topics, it's going to be that much harder to establish the credibility and authority needed to sell your course.
If you build an audience interested in your course topic and nurture them with valuable free content that showcases you as the go-to expert, when you finally DO launch your course, they will be warmed up and ready to invest in you. 
Step 3: Have a pre-sale period. 
The third step to successfully selling data courses online is to have a pre-sale period. This means that rather than building out the entire program, you can create about a third of it. And then do some pre-sales to figure out how well the course is selling. This is also the time to see who's buying it and resonating with the content. When you have good intel on these things, you can tweak your marketing and messaging so it's attracting the right audience.
Having a pre-sale period means that you won't put up too much of an investment up-front. This means investment in both time, money, and energy before validating your course idea. If you launch a pre-sale and you're getting NO traction, you can cancel and give refunds to the few people who bought it. Then go back to the drawing board to see where you went wrong. 
You might have the opposite problem. You may pre-sell the program and you get too many sales and you're overwhelmed with clients! This is a good kind of problem to have! It means there's clearly interest and demand in your course. You'll have to bring on a team to balance your workload, but with the added income from your course, you'll have the revenues to do so!
Step 4: Decide how you will publish your course
There are a couple of different ways you can choose to publish and sell your course or book. There are pros and cons to each option as well. I'll walk you through the benefits and drawbacks of both self-hosting your online data course (or book!) as well as partnering with a brand.
Self-Publishing
Online Courses:
When you self-publish your online course, you retain the rights to it and own your content. This means your potential for profit is higher, as you're not splitting revenues with a partner or publisher.
This also means, however, that you'll need to do all of the marketing for your course yourself. This can be somewhat difficult in the beginning if you have a small audience. But if you are willing to put in the time and effort to grow your communities, self-hosting your online course has the potential for a high reward. You will also need to pay for the software to host your online courses, using something like Teachable (which I use and strongly recommend).
Books:
Self-publishing can be a great strategy if you're looking to put out a book. You'll want to make sure you're publishing one for the right reasons. However, because books are very low-cost and have a high marketing requirement, they won't be bringing in a whole lot of cash.
What I recommend for those looking to self-publish is to see their book as more of a lead generator for their higher-ticket programs. Amazon has the option to set your book price at .99 cents. This can attract leads and drive traffic to your business.
Are you just getting started setting up your data business? Download the Ultimate Toolkit for Data Entrepreneurs! Learn about my BEST recommendations for the top tools and processes to set your business up for success!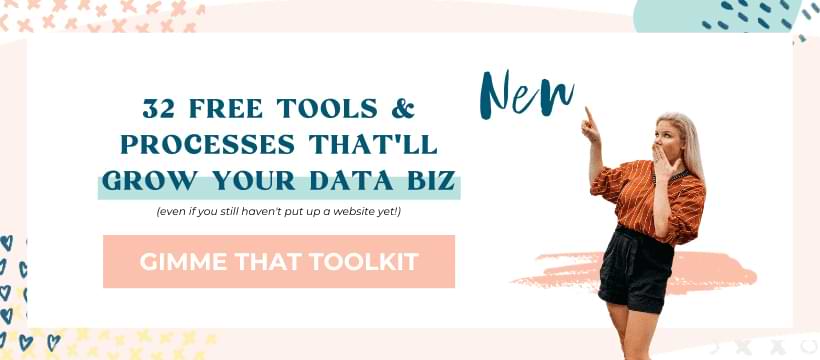 Publishing With a Partner
Online courses:
When you publish your course with a partner, you don't actually retain the rights to the content. This is the case with my LinkedIn Learning courses. LinkedIn owns the course content, and promotes it to its users, and I earn royalties on that. While I make a much lower profit percentage than if I self-hosted these courses, these courses require little to no marketing on my part. Yet, they still bring in decent recurring revenue each month.
Another pro is the potential to scale. Depending on the brand you partner with, you have an opportunity to reach a massive audience. I've now taught 1 million learners via my partnership with LinkedIn Learning, which is an impact that would be difficult to have on my own. Working with a prestigious brand can also give your business credibility, especially if you're just starting out. 
If you're curious to see what my LinkedIn Learning data courses look like on the front end, you can check them out HERE.
If having a big impact on as many people as possible is one of your goals, working with a partner could be beneficial to you. Remember at the end of the day however, you don't own the content and have less control over it.
Books:
The biggest advantage to getting published is the credibility it can bring to your business. When your book is labeled by publishers, it shows a clear, tangible sign to potential customers that you've been recognized as an expert. And if you have a good publisher, you shouldn't have to do too much marketing yourself!
What's important is the ability to see your book as a credibility-builder, and as something that can lead to future (profitable) opportunities, not as a way to make money in and of itself. Very few people get rich selling books. They can however lead to speaking gigs, consulting opportunities, and as entry-points to working with you at a higher level.
???? If you're curious to see my most popular data title with Wiley, you can check out Data Science For Dummies HERE.
Online courses are a hot topic right now and can be a fantastic opportunity to scale your business. By creating a digital product, you can have a more "passive" (creating and marketing these products is still work, however!) income stream alongside selling data services. Make sure you follow these steps carefully. Don't skip out on the important foundations if you want to be successful in selling data courses online!
Want to learn about which platform I use to host my online courses? (As well as all the other incredible tech I use to manage my multi six-figure data business?) The Ultimate Toolkit for Data Entrepreneurs features my best recommendations for free and low-cost tools and tech to set up your data business up for success!
Download the Toolkit below!